Jedwin Is Your Marketing Department
[ With(out) the Payroll ]
Because marketing is hard and payroll sucks.
Running the kind of marketing program you need to establish or grow your business is a lot of work. If you hire payroll employees, it's even more headache and expense for you to take on.
We can help.
Are you feeling overwhelmed, overworked, or understaffed? Would you just rather focus on what you do best? Do you have an idea and a plan for how to grow your business, but no one to get the work done?
The Jedwin Marketing Department
is Your Solution
What Can Jedwin Do for You?
Marketing your business takes time, resources, and know-how. Plus, managing your own team can be a huge pain on top of an overwhelming work load. Hiring Jedwin to be your team gives you the following advantages.
Jedwin Media Inc. is a marketing company comprised of highly educated professionals with years of industry experience. We are a sustainable, long-term solution to your company's marketing fulfillment challenges - combining years of experience and knowledge into a talent pool just for you.
Jedwin has helped startups succeed, we've launched mid-size companies to international success, and we've helped rescue aging businesses from obsolescence. No matter what your marketing challenge is, Jedwin wants to be your dedicated team and help you succeed.
Instead of one or two employees, you get our entire team of experts.
Our team is specialized, meaning we have pros for every topic working for you.
You pay for marketing, you get marketing. Don't worry about all the other hassle.
Only Pay for
What you Need
We specialize in building new campaigns. It's what we do every day. No more guesswork!
Jump-start an
Ongoing Program
We give you a single point of contact who manages our team.
Our team can exploit new processes fast without development or investment on your part.
Focus on what YOU do best knowing that we're at work doing what we do best.
Our pros can bring fresh insights and new ideas to your marketing efforts.
Jedwin provides you agility, allowing to you rapidly increase or decrease your efforts.
This lets you put more emphasis on product development, operations, and sales, letting you adapt to the changing market.
We only work with the best, meaning you get access to the best. You're no longer limited by your payroll budget.
Work with the
Best Talent
All of these advantages will give you a leg up on your competition. Spend less, produce more, and out compete.
Outcompete the Competition
Which Option do you Relate to Most?
A New Startup:
The Kinetic Indoor Cycle & Fitness Story
Sandra was finally following her dream to open her own fitness studio. She had been crafting the vision for years, saving money, and she was finally ready to start. But there were a LOT of competitors in town. She knew she had a solid concept to be able to compete, but the huge amount of complex, technical work to launch her business right was intimidating.
Sandra reached out to Jedwin Media Inc. and hired our team to be her own Marketing Department. For the price of a full-time marketing assistant, Sandra had access to Jedwin's 14 person team of professionals, responding to any task or request and working for her to launch her business.
We built her a website, social media accounts, ran ads, designed materials and branding, designed signage, built an ecommerce site, consulted on operations and software, automated processes, and cast a strategy for long-term grown.
Jedwin was there every step of the way, from concept to wait-lists, as Sandra built a successful and thriving company.
Today, Kinetic Indoor Cycle & Fitness is one of Southern Alberta's most successful startups.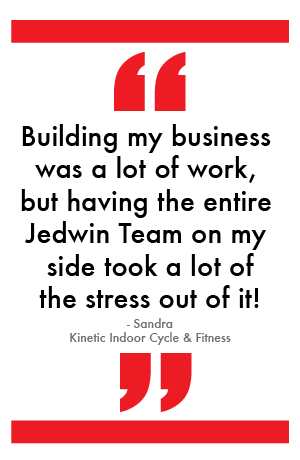 From Grass Clippings to Green Empire:
The Fulks Lawn and Landscape Story
Matthew had worked hard to grow his small landscape company from a truck and trailer to a thriving medium sized employer. His vision was to be the number one landscape company in the Kansas City region.
When Matthew hired Jedwin, he had a vision for growth, but didn't have the expertise or time to do the marketing work needed to make it happen. Matthew looked at hiring employees, but was intrigued by the Jedwin model. 14 team members for the price of one? SOLD!
Jedwin rebuilt Fulk's digital assets, and launched an aggressive and strategic campaign to grab more market share. Matthew recovered his initial investment in the first few months by landing new contracts. He and his team focused on the work they know and love and let Jedwin tackle the technical work to land those new leads.
Today, Fulks is thriving and furiously hiring new teams to keep up with their growing demand.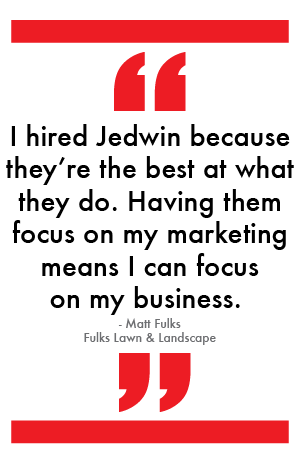 Seeing the Vision:
Jim owns an established optometry clinic. Jim and his team noticed that the world was changing around them. Customer behavior was changing and business was dropping. They knew they would have to adapt or die. But learning how to do the technical work of digital marketing was frustrating, time-consuming, and they felt lost and overwhelmed.
Jim hired Jedwin with a vision but no idea on how to get there. Jedwin helped him rebrand and retool his business to compete online in the modern age. His online presence is state-of-the art, and he's reaching a new audience, and has smooth day-to-day operations.
Today, Optical Studio is a modern, tech-focused optometry studio that excels in sales and is relevant to the new generation.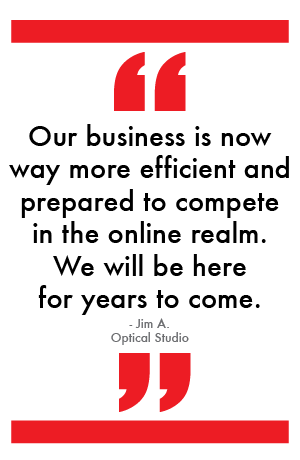 The Jedwin Team consists of doers, not theorists. We don't preach sales techniques that aren't proven - and we bring a wealth of experience to the businesses we work with. We have assisted companies with their sales processes in a wide variety of industries and company sizes. From 3 person sales teams to multi-million dollar corporations, our team is flexible and agile enough to adapt to any environment. We also understand business basics - such as 20% of your customers often bring 80% of your sales revenue - and we help to nurture and maintain relations with these key customers through actionable advice and recommendations.
When you work with Jedwin, we are your team with your best interests at heart.
Jedwin succeeds when YOU succeed, which means your priorities are our priorities.
You are the only client we will work with in your sector. We are exclusive to you.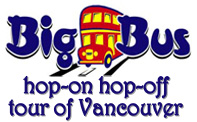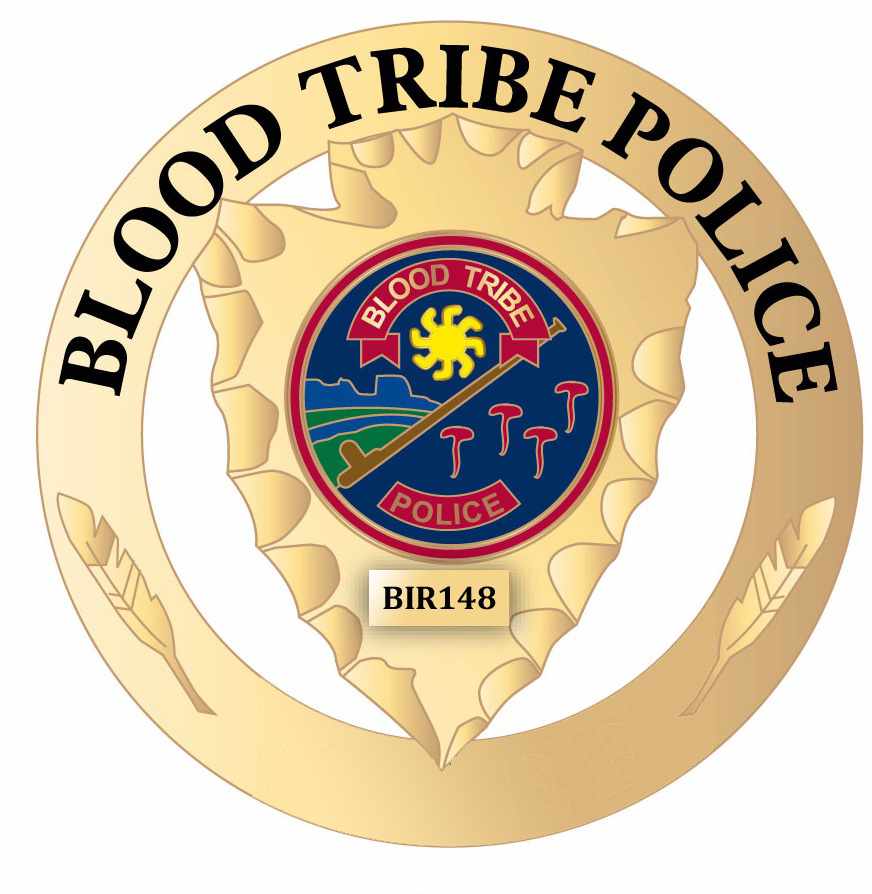 A growing company traditionally addresses their marketing needs by hiring an in-house employee. The Jedwin solution is to provide you with a dedicated 14 person team of professionals, on-call, all the time, for the same cost.
It's that simple.
One In-House Marketing Employee
Payroll

Employee Wages
Employer Contributions
Payroll Remittances
E.I. Contributions
CPP Payments
Learning Curve
Office Space and Furniture
Acquisition Costs
Training Costs
Professional Development
Supervision
Discipline
Mistakes
Personal Leave
Sick Days

Vacation Pay
Holidays
Emergencies
Retention Problems
Raises
Unions
Office Drama
WCB
Coaching
Succession Planning
One Monthly Invoice
14 Person Team

No Hassle

Your Jedwin Marketing Department Can Provide...
Pay Per Click

Graphic Design
Email Marketing
Social Media Management
Digital Marketing
Search Engine Optimization
Content Marketing
Marketing Services
Marketing Management Consulting
Web Design

Copywriting
Branding Services
Business Consulting
Product Photography

Event Photography
Web Design Retainer
Marketing Retainer
SEO Retainer
Mobile Apps
Writing Services
E-Commerce

Wordpress Development
Conversion Rate Optimization
Established and Incorporated in 2007
COPYRIGHT © 2020 Jedwin Media Inc.